Aqwal Hazrat Ali – Hazrat Ali Quotes in Urdu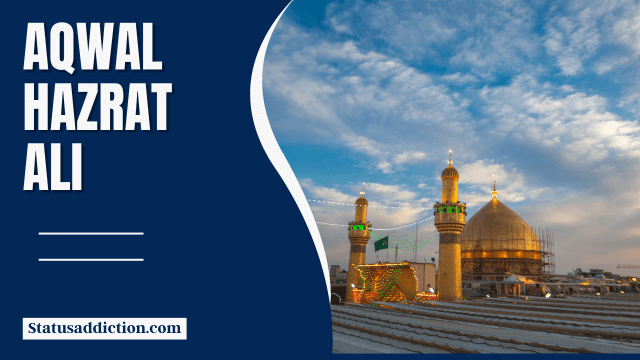 Aqwal Hazrat Ali, The legacy of Hazrat Ali (R.A) and his profound sayings hold immense importance in the annals of history. As one of the bravest individuals in Islam, Hazrat Ali's (R.A) valor and unwavering support for the Holy Prophet in numerous battles have been etched into the hearts of believers. His commitment to upholding the principles of Islam, even in the face of oppression, stands as a shining example for Muslims across the globe. This article delves into the famous sayings of Hazrat Ali (R.A), reflecting on their relevance in shaping our lives.
Aqwal Hazrat Ali
کبھی اپنی زبان سے کسی کے عیب بیان نہ کرو
کیونکہ عیب تم میں بھی ہے
اور زبان لوگوں کی بھی ہے
Kabhi apni zabaan se kisi k aeb bayan na kro
kiun k aeb tum mei bhe hai
aur zabaan logon ki bhe hai
کوئی تمہارا دل دکھائے تو ناراض مت ہونا
کیونکہ قدرت کا قانون ہے
جس درخت کا پھل زیادہ میٹھا ہوتا ہے
لوگ پتھر بھی اسی کو مارتے ہیں
Koi tumhara dil dukhaaye tou naraz mat hona
kiun k qudrat ka qanoon hai
jis darakht ka phal zyada meetha hota hai
log pathar bhe usi ko maarte hain
جو آدمی لوگوں کے حالات دیکھ کر
عبرت پذیر نہیں ہوتا اللہ تعالی اس کے
حالات سے اور لوگوں کو عبرت دلاتا ہے
Jo admi logon k halaat dekh kr
ibrat pazeer nhe hota ALLAH TA'LA us k
halaat se aur logon ko ibrat dilaata hai
جو آدمی اللہ تعالی کی بارگاہ میں عزت پا لیتا
ہے اسے کوئی غالب سے غالب بھی ذلیل
و رسوا نہیں کر سکتا
Jo admi ALLAH TA'LA ki bargah mei izzat paa leta
hai usy koi ghalib se ghalib bhi zaleel
o ruswa nhe krsakta
انسانیت بہت بڑا خزانہ ہے
اسے لباس میں نہیں
انسان میں تلاش کرو
Insaniyat bhut bara khazana hai
usy libaas mei nahi
insaan mei talaash kro
Hazrat Ali Aqwal in Urdu SMS
Achay Logon Ka Tumhari Zindagi Main Aana Tumhari Qismat Hoti Hai Aur Unhain Sanhbhal Kar Rakhna Tumhara Hunar.
اچھے لوگوں کا تمہاری زندگی میں آنا تمہاری قسمت ہوتی ہے اور انہیں سنبھال کر رکھنا تمہارا ہنر
Related Post: Best Karbala Shayari Quotes
Dost Kay Saath Us Namak ki Tarah Raho Jo Khaanay Me Dikhai Nahin Daita Laykin Agar Na Ho To Us Ki Kami Bohot Mehsoos Hoti Hai.
دوست کے ساتھ اس نمک کی طرح رہو جو کھانے میں دیکھے نہیں دیتا لیکن اگر نہ ہو تو اس کی کمی بہت محسوس ہوتی ہے
Jab Taqat Zayada Ho Jati Hai To Khawahish Kam Ho Jati Hai.
جب طاقت زیادہ ہو جاتی ہے تو خواہش کم ہو جاتی ہے
Kisi Bay Qasoor Par Bohtaan Lagana Ye Aasmano Se Bhe Zayada Bhaari Gunnah Hai.
کسی بے قصور پر بوہتان لگانا یہ آسمانوں سے بھی زیادہ بھاری گناہ ہے
Hamesha Choti Choti Khushyon Ka Istaqbal Kia Karo, Kyun Kay Inhin Kay Peechay Muhabbton Ka Selaab Hota Hai.
ہمیشہ چوٹی چوٹی خوشیوں کا استقبال کیا کرو، کیوں کہ ان ہی کے پیچھے محببتوں کا سیلاب ہوتا ہے
Jo Tumhain Khushi Main Yad Aaey Samjho Tum Us Se Muhabbat Kartay Ho, Aur Jo Tumhain Gam Main Yad Aaey To Samjho Wo Tum Se Muhabbat Karta Hai.
جو تمہیں خوشی میں یاد آے سمجھو تم اس سے محبّت کرتے ہو ، اور جو تمہیں گم میں یاد آے تو سمجھو وہ تم سے محبّت کرتا ہے
Mushkil Waqt Aa Jaey To Kisi Ka Ehsaan Mat Lo Kyun Kay Mushkil Waqt Chaar Din Ka Aur Ehsaan Zindagi Bhar Ka Hota Hai.
مشکل وقت آجاۓ تو کسی کا احسان مت لو کیونکہ مشکل وقت چار دن کا اور احسان زندگی بھر کا ہوتا ہے
جو ظلم کے ذریعے عزت چاہتا ہے
اللہ اسے انصاف کے ذریعے ذلیل کرتا ہے
Jo zulm k zariye izzat chahta hai
ALLAH usy insaaf k zariye zaleel krta hai
صبر کی دو صورتیں ہیں
جو نا پسند ہو اسے برداشت کرنا
اور جو پسند ہو اس کا انتظار کرنا
Sabr ki suratein hain
jo napasand ho usy bardasht krna
aur jo pasand ho us ka intezaar krna
جو آدمی غفلت میں رہتا ہے وہ جہالت
میں پڑا رہتا ہے اور جو جہالت میں
پڑا رہتا ہے وہ بےکار رہتا ہے
Jo admi ghaflat mei rehta hai wo jhaalat
mei para rehta hai aur jo jhaalat mei
para rehta hai wo bekaar rehta hai
سب سے پہلی عبادت یہ ہے کہ انسان
مصیبت میں صبر کر کے اللہ تعالی کی
طرف سے مدد کا منتظر رہے
Sab se pheli ibadat ye hai k insaan
museebat mei sabr kr k ALLAH TA'LA ki
taraf se madad ka muntazir rahe
اپنے عیبوں پر نظر رکھ
اور اپنے بھائی کے عیب چھپا
تاکہ تو بے پردہ نہ ہو جائے
Apne aebon par nzar rakh
aur apne bhai k aeb chupa
taa k tu beparda na hojaaye
Hazrat Ali Quotes in Urdu
Kabhe Tum Dosron Kay Liay Dil Se Dua Mang Kar Daikho Tumhain Apnay Liay Dua Mangnay Ki Zarorat Nahin Paray Gi.
کبھی تم دوسروں کے لئے دل سے دعا مانگ کر دیکھو تمہیں اپنے لئے دعا مانگنے کی ضرورت نہیں پڑے گی
Dar Nakami Se Mila Howa Hai.
ڈر ناکامی سے ملا ہوا ہے
Ilm Tmhain Rah Dikhata Hai Aur Amal Tmhain Maqsad Tak Pohoncha daita Hai.
علم تمہیں راہ دکھاتا ہے اور عمل تمہیں مقصد تک پہنچا دیتا ہے
Apnay Dost Kay Dushman Se Dosti Mat Karo Aaisa Karnay Se Tum Apnay Dost Kay Dushman Ban Jaogay.
اپنے دوست کے دشمن سے دوستی مت کرو ایسا کرنے سے تم اپنے دوست کے دشمن بن جاؤگے
Agar Koi Apna Hamain Bhool Jaey To Kia Kiya Jaey? To Hazrat Ali (R.A) Ne Farmaya Koi Apna Ho To Wo Kabhe Nahin Bholta Aur Jo Bhol Jaey Wo Apna Nahin Hota.
اگر کوئی ہونا بھول جاۓ تو کیا کیہ جاۓ حضرت علی ؓ نے فرمایا کوئی اپنا ہو تو وہ کبھی نہیں بھولتا اور جو بھول جاۓ وہ اپنا نہیں ہوتا
Zindagi Kay Har Mor Par Sulah Karna Seekho Kyun Kay Jhukta Wahe Hai Jis Main Jaan Hoti Hai Akarna To Murday Ki Pehchan Hoti Hai.
زندگی کے ہر موڑ پر صلح کرنا سیکھو کیونکہ جھکتا وہی ہے جس میں جان ہوتی ہے اکرنا تو مردے کی پہچان ہوتی ہے